TOKYO, Apr 24, 2023 – (JCN Newswire via SEAPRWire.com) – NTT DOCOMO, INC. announced today it has launched the Sharing Operation Optimization System, which uses AI to optimize operations for maintaining effective allocations of shared micromobility vehicles and replacing depleted batteries used by these vehicles.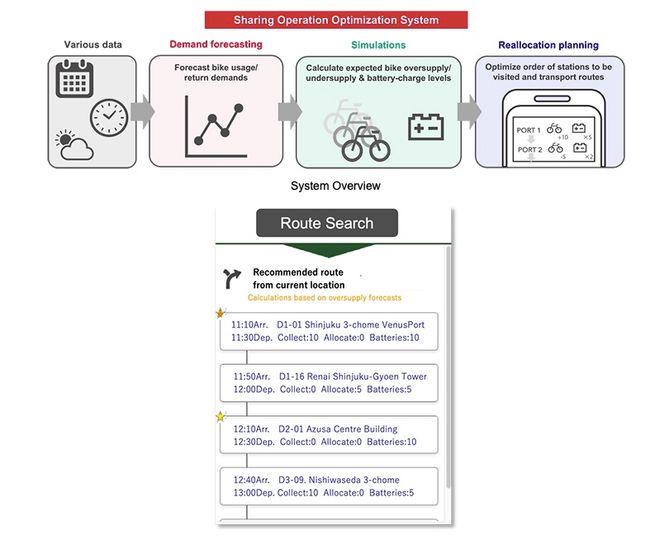 Screenshot of system's recommended reallocation plan (example)
The system was adopted on April 24 by New windowDOCOMO BIKE SHARE, INC., the provider of a bicycle-sharing service that allows users to reserve electric-assist bikes at the most convenient bike station, ride comfortably around the city, and then freely choose their preferred return station. Hereafter, the system will be gradually deployed throughout Tokyo to manage the company's shared-bike fleet.
Micromobility-sharing services allow users to easily rent bicycles and other small, lightweight vehicles and then conveniently return them to any station operated by the service. As the number of sharing-service users continues to grow globally, the corresponding increases in vehicles and renting/returning stations is making it difficult to ensure that vehicles in each fleet are optimally allocated and equipped with charged batteries at all times.
DOCOMO's new system uses AI to generate optimized plans for collecting and reallocating vehicles and replacing spent batteries. The system uses machine learning to simulate vehicle movements in order to predict the availability of vehicles and charged batteries at each station. Maintenance personnel can then use tablets or other mobile devices to view precisely which vehicles need to be trucked to other stations and which batteries need to be replaced for maximum operational efficiency.
The system forecasts rental/return trends based on a variety of data, such as in-use and returned vehicles, weather forecasts, date and time, travelling distances between stations, and each truck's storage capacity as well as quantities of vehicles and batteries on board any truck at any time. Using this information, the system generates an optimized reallocation plan, including the best transport routes. The system enables personnel with less experience to function as efficiently as experienced staffers. It is also expected to help operators to develop efficient operating routes in new territories.
Going forward, DOCOMO will continue to assess the system's performance, including its forecasting accuracy and the effectiveness of its recommended routes for bike reallocation, based on which the company expects to further upgrade the system and adapt the technology for supply-and-demand optimization in various other fields.
For more information, visit www.docomo.ne.jp/english/info/media_center/pr/2023/0424_00.html.
Copyright 2023 JCN Newswire. All rights reserved. (via SEAPRWire)